Preparing the ground for our expanding operations, we will work to increase sales and earnings.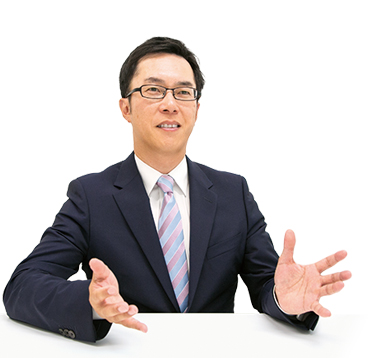 President & CEO
Treasure Factory Co., Ltd.
Eigo Nosaka
Financial results for the fiscal year to February 2018
In the period under review, consolidated sales revenue increased 23.3% compared with the previous fiscal year, reflecting the addition of Kindal to consolidated accounts. Parent-only sales revenue gained 8.9%. While the cost of new store openings in the first half of the fiscal year weighed on income, contributions from the new stores started in the second half. This was accompanied by a subsequent upturn in Kindal's performance, adding to consolidated results for the full fiscal year. Although operating income decreased 189 million yen in the first half compared with the previous fiscal year, the second half brought a 76 million yen increase, setting operating income on a recovery course. On a parent-only basis, the number of sales transactions at existing stores increased 1.0% from the previous fiscal year on the back of higher purchases connecting to rising sales as stores successfully leveraged their strength as comprehensive retailers featuring broad-based assortments of pre-owned merchandise. A decline in the gross margin needed to be addressed, however. This drop was caused in particular by price cuts instituted in the first half of the fiscal year in order to promote the clearance of stagnant inventories centering on apparel. Following efforts to resolve the problem starting in the second half, profit margins have been on a recovery trend.
Key efforts in the fiscal year to February 2018
We renewed flagship store operations that had become obsolescent in the course of many years of service. This step has been yielding steady rewards, including higher sales. We will continue with the renewal of existing stores to ensure that our premises remain highly attractive. Among e-commerce sites, which to date have been emphasizing a specialization in apparel, our online shop "Treasure Factory Online" started full-scale operations as a comprehensive retailer with a diverse assortment of pre-owned merchandise. Moreover, by strengthening our merchandise purchases via delivery services through our e-commerce sites, we succeeded in making more purchases from site users all over Japan.
New store openings by parent operations brought 14 new premises, exceeding the plan for the year, and 20 for the group overall. All new stores have had a favorable start, marking the successful creation of a basis for future revenue growth. Among these new store openings, compared with our first Thailand-based "Sukhumvit 39 Store" in Bangkok with its many resident Japanese customers, the "Phra Khanong Store," our second in the Thai capital, has proved a successful approach to completely new customer constituencies comprised mostly of local people and US and European expatriates.
Initiatives in the time ahead
In the fiscal year ending February 2019, on a parent-only basis we plan to open new stores at the rate of about 12 stores annually.
We will continue to open stores with the emphasis on compact store sizes and locations in the proximity of train stations. At the same time, bringing to bear our various store formats, we will widen the range of store locations by matching locations' varying attributes with suited store formats. Additionally, we will strengthen both sales and purchase transactions by emphasizing and melding the respective strengths of our physical stores and e-commerce sites.
In March 2018 we newly added to our subsidiaries a specialty store format for pre-owned golf items, which further expanded the scope of merchandise in specialty fields ranging from golf to other sports and outdoor gear. Going forward, we will continue to aggressively engage in further efforts based on leveraging the group's own management resources.
A message to shareholders
With the addition of the new subsidiary, the business of the group has widened to 8 store formats.
In order to keep enterprise value further on the rise over the medium and long terms, in the fiscal year to February 2019 we will remain firmly focused on strengthening the group's earning power. Toward this goal, I would like to sincerely request the sustained support and goodwill of the Company's shareholders.